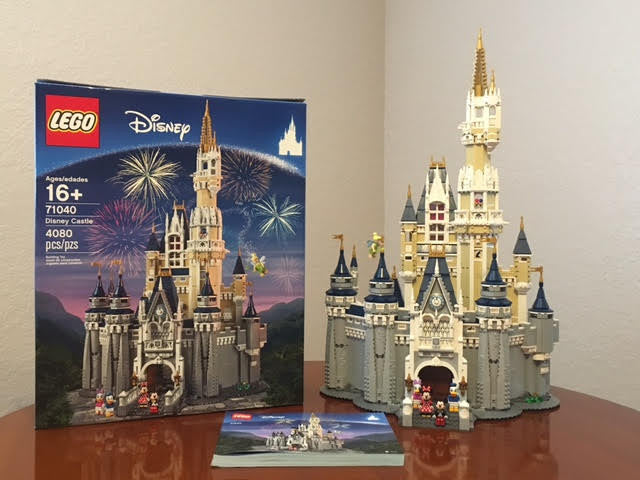 Today we are submitting our review of the Lego Disney Castle, set 71040, released in September 2016. This particular set is from our personal collection, and to date, is one of our favorites. 
          We are going to start by saying that this is truly a "magical" set and captures The Walt Disney Castle beautifully. It comes very close to making you believe it's the real deal (if you were mouse size). There are 4,064 Lego pieces included and 5 Minifigures. The figures that come with this set are Mickey Mouse, Minnie Mouse, Donald Duck, Daisy Duck, and Tinkerbell. On May 1, 2016, Lego released The Disney Character Minifigure Series. Daisy Duck and Donald Duck are repeats from that series. However, Mickey and Minnie are exclusives to this set, as they are dressed in evening wear for their first appearance at the Castle. Tinker Bell is also an exclusive Minifigure to this set, she is highly sought after, and rightfully so; considering the beauty and magic she possesses.
          This massive set took us about a total of 12 hours (constructing on and off, over a 3 day period) to build, and we enjoyed every minute of it. The details on the inside and outside of the Castle are gorgeous and couldn't have been designed any better, in our opinion. We love how each of the rooms on the inside of the Castle have a different Disney movie theme. Lego even added a working "firework popper" in one of the tower windows to give the Castle a real deal feel.
          We love the design and content included in the actual instruction book itself. It's quite thick, but we dig that the entire instructions for building are condensed into one book instead of strung out into several different numbered manuals (as Lego is infamous for doing). At the beginning of the instruction book there is an explanation as to which Disney Movies are being showcased inside each of the themed rooms, as well as a short history of the actual Castle at Walt Disney World Resort in Orlando, Florida. So if you're a fan of Disney (which you probably are, if you are considering buying this set), then you'll thoroughly enjoy flipping through the pages of this book.
           As far as the actual pieces themselves are concerned, we came across an array of what looks to be exclusive "bricks" to this set. Out of our many years of building, we have never laid eyes on some of these pieces. Which makes sense, because we are sure Lego had to design exclusive bricks to be able to capture the beauty found inside the Castle. In addition, there are more actual Lego "printed" pieces included in this set than in a typical normal one. We were happy with this because it dramatically reduced the number of actual stickers we had to apply, and we love that (stickers can be pesky if you're a "stickler" at getting them placed perfectly straight). Although fewer stickers were required, there was still quite a few to be placed, mainly the big "stone" stickers that go on the outside of the Castle. Tedious to do, but not overwhelming. 
            There is so many things about this Castle that make it unique. Lego really outdid themselves with this set! We may be partially biased because of our love for Disney, but we don't think so. The Castle is currently displayed in our climate controlled collectible room (because...only the best for this Castle). It is an amazing display piece, and it never gets old to look at. If for the briefest of moments, it brings you back to your childhood and the memories spent with family at the park (at least for us it does). This set is a must have for any Disney/Lego fan. From the easy to follow instructions to the detailed Castle peak, the build is seamless. The Lego Castle carries a $349.99 price tag. A bit steep, yes, but worth every penny in our opinion.  
            Kudos to Lego! The designers did an outstanding job on this very nostalgic piece. We have a feeling that this set will be highly sought after for years to come. 
~Ryan's Vintage GI JOE & Toy Bricks